15% Off finalRender!
In celebration of MrMaterials supporting finalRender, Cebas Visual Technology is offering 15% off of finalRender until September 30, 2018!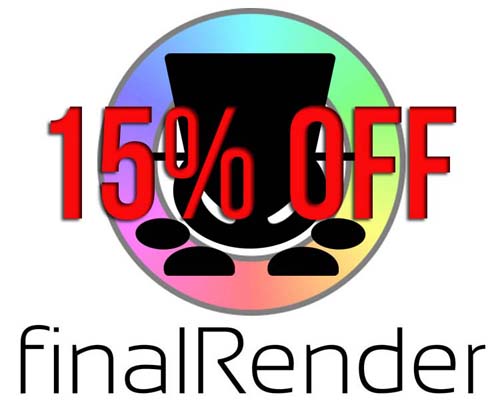 That's right! To celebrate finalRender materials being provided for the first time at MrMaterials , Cebas Visual Technology is now offering 15% off the price of their trueHybrid rendering system. finalRender is a new breed of light simulation software offering unique algorithms and approaches to light simulation not found in any other renderers for 3ds Max. trueHybrid TM allows for the creation of photo real images on a CPU, a GPU or both at the same time.
You can read about finalRender here: https://www.3dallusions.com/news/6458-finalrender-next-generation.html
You can read about MrMaterials and finalRender here: https://www.cebas.com/index.php?pid=news_article&nid=599
And cebas Visual Technology will be offering a limited time 15% rebate for Mentalray and other users to step up and make a purchase of finalRender trueHybrid TM, the spectral-wavelength-adaptive-sampling renderer of the future! Offer ends September 30th, 2018.
To take advantage of this great price go to https://www.cebas.com/finalRender and enter voucher code UiUhathZX9h5uGR to get 15% off finalRender!